Regular price
Sale price
$29.99 USD
Unit price
per
Sale
Sold out
Get Three Shifter Fated Mates Romance E-books by USA Today Bestselling Romance author Sedona Venez. 
This offer is NOT available anywhere else.
⭐️

⭐️

⭐️

⭐️

⭐️

 "Fast paced and full of action this is the perfect book for you when you want a bit alpha shifter and feisty female character with an added dose of magic to finish it all off." -Reviewer
This E-book Bundle features protective alpha shifters, steamy romance, and lots of action adventure. 
If you love riveting storytelling, sensual alpha shifters, and paranormal romance that never quits, then you'll love this Shifter Paranormal Romance Bundle!
BOOKS INCLUDED IN BUNDLE:
Claimed by Her Shifter: 900 pages of high-stakes action, fantasy adventure, and steamy interludes that just might set your reading device on fire!
Claimed by Her Two Alphas: Three MFM Shifter Romance books that are ALL about her - no m/m.
Claimed by Her Wolf: Five Scorching Hot Shifter Romance books in one collection!
Main Tropes
Soul Mates/Fated Mates
Alpha Hero
Shifters
Opposites Attract
Fish Out of Water
Protector
FAQS: HOW DO I READ MY EBOOK?

You can read the ebooks on any ereader (Amazon, Kobo, Nook), your tablet, phone, computer, and/or in the free Bookfunnel app.
FAQS: HOW WILL I GET MY EBOOK?

Ebooks are delivered instantly by link in your confirmation email (and as a backup, also by email from our delivery partner, Bookfunnel).
READ SAMPLE

Chapter One

 Another crazy day of endless shopping, thought Julie as she dumped her bags onto the floor, struggled to open the front door, and then fought to pick up the heavy bags once again.

That's when she heard a deep voice rumble from out of nowhere. A voice she knew that she would never forget.

"Looks like you could use some help with those."

Crushed gravel…warm, delicious velvet, and pure steel mixed with just a hint of smooth, deep bass…That voice. Julie caught her breath as the words washed over her senses, her pulse instantly quickening.
She was reluctant to look behind her; she already knew who it was. Only one man had a voice that could send such wickedly delicious vibrations through her curvy frame, reducing her to a blushing schoolgirl within minutes, leaving her feeling lightheaded and breathless.

"Come on, let me help you with that. Those bags look awfully heavy for a girl."

This time, his voice held humor and she rolled her eyes before finally spinning around to face him.

"Hi, Caine," she greeted him with a bright smile. "But this girl can manage. Easily."

With a man like Caine, there was only one thing to expect: Unapologetic and brazenly hot fire that could melt any woman's heart with just one look. Even a woman
like Julie who didn't fall easily.

Yet that's exactly what happened every time she ran into him.

Julie had moved into the quiet neighborhood only a few months ago and so far, Caine was one of the only neighbors who had reached out to her. Julie didn't mind
that so much, since the last thing she wanted was to add chaos to her life with
nosy neighbors wanting to invade her space and know all about her business.

After all, she moved to the area for one reason only: peace and quiet, and most
importantly, a brand-new start, a second chance. And that involved keeping a
low profile, her head down, minding her own damn business.

She looked up, way up at Caine and instantly felt the undeniable heat in the deep blue of his eyes.

It was hard to turn a shoulder to such a beautiful, charismatic man, even if the
plus size beauty felt completely awkward, and out of place with him. Perhaps she wasn't used to the attention of such a seductively handsome man, or maybe it was because of her own insecurities, ignited by an ex-boyfriend who made her question everything about herself. But
as she stood before Caine, and his offer of helping her with her shopping bags,
all self-conscious thought was swept from her mind, replaced with a deep,
satisfying need to be close to him, to remain in his presence.

His dirty blond hair and six-foot-six frame in that fitted black t-shirt and low
slung jeans looked casual enough at first glance, harmless even, but you could still imagine him just walking out of a Calvin Klein photo shoot. Those jeans, oh those jeans…they showed off all the good parts.

 "Thanks, Caine. I appreciate the help, but I think I'll manage." she finally replied. Damn the ridiculous mousy voice that came from her lips. Every single time he came near her, she felt like she should run the other way for fear of further embarrassing herself. But Caine seemed harmless enough – as harmless as a walking sex god could be, that is. Julie had to quell the impulse to run her fingers through his hair. She hoped she looked okay after a full day of shopping and errands. What could she say? Shopping was
her pick-me-up, especially after a rough day – or week. And she'd had more than a few of those lately.

"Are you sure about that?" Caine prodded, a small smile tilting his sinfully curved
lips. Julie tore her eyes away from that beautiful mouth to look down at the bags, which still dotted the floor at her feet, barely maintaining their contents. She figured two trips would be all it would take, and she'd have all her stuff inside. But then she looked up at Caine once again, and didn't feel
like denying him one more time. Why the hell would she say no? Not to those
gorgeous blue eyes. Not to that sinfully flirty smile with those melt-your-heart dimples. What harm would
it be anyway, accepting a bit of help from a friendly neighbor?

"On second thought, I really would appreciate your help. Thanks," she replied with
a genuine smile. She could swear Caine's eyes darkened momentarily as he held
her gaze, but then he nodded with a return smile.

"No problem," he replied, his molten-lava voice oozing sexuality, and with one
quick movement, he easily gathered up several of the over-flowing bags into his
large hands.

"Come on in," Julie whispered, though he already was walking through her front door. She hid an inward sigh as she watched Caine enter into what she'd so far considered her personal space. Her eyes lingered briefly on his retreating back, stretched beneath the fabric of his t-shirt and outlined in muscle, and then down at his perfectly sculpted frame. No
man's ass had the right to look that good in jeans, thought Julie with a shiver.
Finally, she bent down to pick up the remaining two bags. As she straightened,
she glanced across the street and let out a quiet groan of dismay.

Julie recognized the woman standing there in front of the opposite house, her thin
face etched in disapproval. She had long brunette hair tied back in a severe
ponytail, and her gaze was that of sharp daggers and cold steel. Just what I need, thought Julie. It was
bad enough that she'd been feeling snubbed by the ladies in the neighborhood, but now she'd have to contend with being thought of the neighborhood flirt, maybe even slut, luring their sexy male neighbors into her love nest.

Not sure what to do, Julie simply smiled and nodded, but the woman merely huffed and turned her back, shaking her head all the way up to her front door which she slammed shut behind her. Ouch. Okay, so that's how it's going to be. Well, all the more reason not to socialize.

With a deep sigh she retreated into her house only to find Caine waiting for her, standing in the middle of the foyer, bags still in hand.

"Where do you want me?" He glanced over his
shoulder at her, his dimples prominent on his tanned face.

Julie couldn't control the rush of heat between her thighs or the way her nipples
suddenly felt sensitive beneath her thin blouse. Stuttering, she struggled to
breathe. "Umm, in the … the living room. Just set the bags down on the coffee
table, please." She moved ahead of him, leading him deeper into the house, and
he followed close behind, his masculine scent waffling in the air, permeating
everything it touched and she knew that she would never be able to walk through the front door of her house again without being instantly reminded of Caine. And she was very certain he knew that.
Share
View full details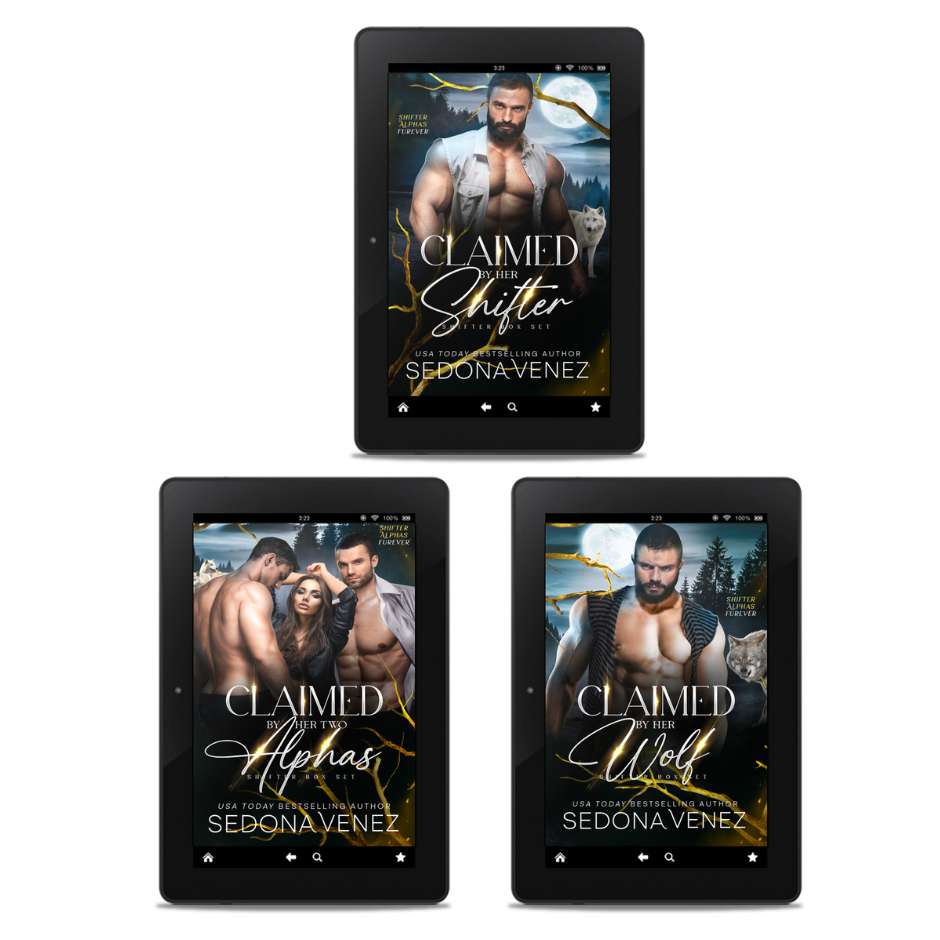 Ready to escape with your next fated mates shifter romance read?
Love growly protective Alpha Hero Shifters? Get this steamy fated mates shifter romance bundle!

Lots of hot protective shifters in EVERY ebook!